Do you want to join the IDEMITSU LCR HONDA Team Membership Club?
Here is your opportunity!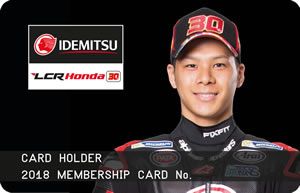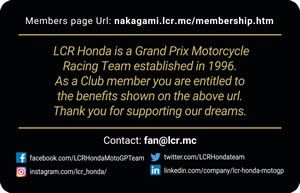 Membership Benefits:
– Receive your personalised membership card
– Receive your membership certificate individually signed by Lucio Cecchinello
– Receive a signed card by Takaaki Nakagami
– Receive a dedicated newsletter during race weekends
– Have your name included on the dedicated supporters page on the LCR HONDA website and Facebook page.
The cost of 2018 membership is € 50.00
We constantly launch several contests only for Members to win very exclusives prizes. It is now possible to pay with Paypal or directly with major Credit Card.
Membership is non-refundable after the shipment of your membership card.
All you need to do is complete the following form in order to subscribe.
The IDEMITSU LCR HONDA Team would like to thank you for your generous support.